56 York Boulevard is a beloved local landmark.  
Built in 1856 it housed Coppley Apparel, a high-end suit and jacket production company, for nearly 140 years and played a key role in Hamilton's textile trade.
Located downtown at the corner of York Boulevard and MacNab Street North, right across from established community hubs like the Farmer's Market and the Central Hamilton Public Library, the building has sat quiet, vacant and full of potential for several years.
We're excited to restore its original character and transform it into a new kind of community hub that will include a lively mix of commercial uses and tenants.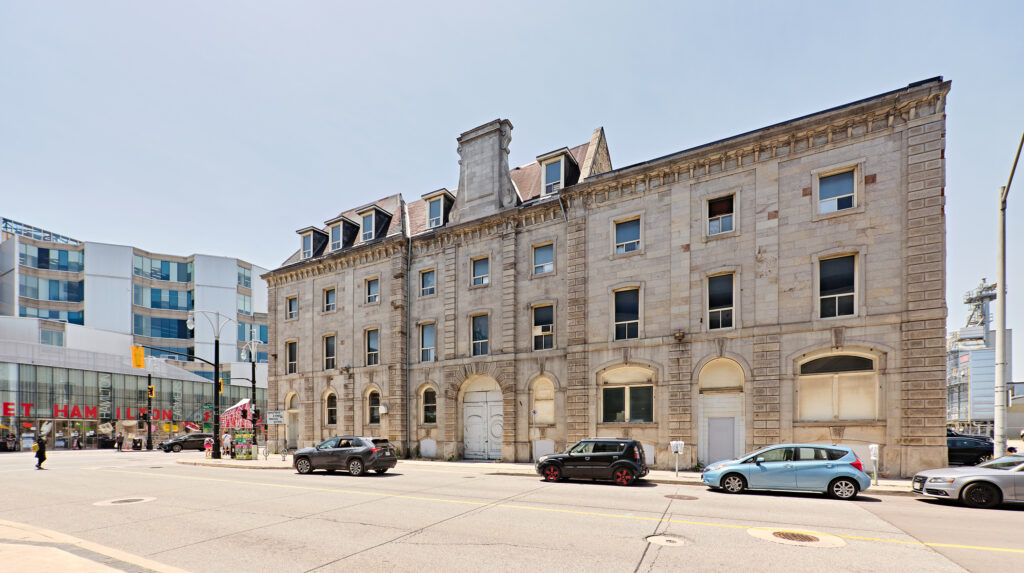 Imagine a café and offices alongside creative spaces and community-serving organizations – this project will buzz with activity, deliver positive social and environmental impact and help make Hamilton's downtown core even more vibrant.
We started engaging Hamiltonians in late 2021 – seeking input on our design and programming ideas.
We are currently exploring a series of innovative approaches that will help ensure the project drives positive impact for people and the planet. Ideas include:
Green and smart technologies
Accessible design
Offering subsidized below-market rents to some tenants
Developing new models that will help some tenants build equity and participate in the value the project generates
This project is part of TAS's Community Hub Strategy, which sees us lead the adaptive re-use, lease-up and operations of underutilized warehouse spaces across the GTHA.
Improving energy efficiency and reducing the carbon footprint of existing buildings is significantly greener than demolition and new construction, and we're proud to be taking a sustainability-first approach.
In late 2021 and early 2022, we connected with over 20 Hamiltonians (representing 17 organizations) regarding TAS's plans to re-imagine the building. Several themes emerged from these rich and interesting conversations:
Heritage is important! People love this building and are keen to see it preserved and celebrated; it is a unique asset and a potential symbol of what Hamilton can be moving forward.
Collaboration and connectedness are key, and should be maximized when considering the mix of tenants, partnerships, programming and uses. In addition to office spaces, many people suggested informal gathering areas, flexible meeting rooms and event spaces that would be inclusive, accessible and affordable to a diverse range of users.
Many different tenants and partners could call the space home, and suggestions spanned a wide spectrum: from co-located health and social service organizations to business, film, technology, and creative sector uses.
For community-serving tenants, affordability, stability and the ability to access shared amenities or services were identified as desirable attributes.
We'll keep updating this site with updates as the process and our plans evolve. So stay tuned, more to come!
If you have a suggestion, great partnership idea, question or just want to get involved – we want to hear from you!
Please get in touch with us any time: info@56york.ca
Commercial spaces are available at this property on a short and long-term basis while we work through the design and approval phases.
Interested in leasing a space?
Get in touch with our VP Asset Management, Ashley Burke: ashley.burke@tasimpact.ca, 416-510-8181 ext. 277.